Click here to see photographs of the Moses Harper Monument at Mouth of Seneca
2018 Harper Reunion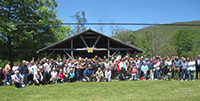 Dear Family and Friends:
It is that time of year again to make plans for our annual time of getting together and sharing in a time of fellowship and good food. Our reunion this year is on Sunday, May 27, 2018, at the Harper Pavilion, located on the Harper Farm, 2.2 miles East of Harman on Route 33. Turn in at the Jacob C. Harper Cemetery sign and drive up the gravel road keeping to the right at the farmhouse where you will find the pavilion.
Our internet website is www.jacobcharper.org where you will find information that has been posted for your use. The content is updated with the annual reunion photo and other information supplied by Marsha Fuller and posted by our website manager, John Harper.
Visit the family cemetery which is located further up the road on the farm. The cemetery is maintained by Danie Ours and family with funds supplied by donations and with a perpetual care fund established by the Board of Directors. We encourage donations and bequests to keep the fund going for time to come. The cemetery is for any family member who wishes to be buried there.
Our meal will begin a 1:00 pm after the family photograph and the blessing. It is a covered dish affair with lots of good food. Those attending from far off and do not have means of preparing a dish should not worry about coming. There will be plenty. Please register when you arrive so that we can keep our contacts updated. Those who have email addresses will receive the newsletter electronically along with the letter. Those not having electronic connections will receive a mailing.
The Board of Directors will meet following the door prize drawings. Anyone wishing to communicate and send donations can mail their donations to our treasurer, Eleanor Nestor, 7936 Dry Fork Road, Hendricks, WV 26271
We look forward to seeing you there!